Latest posts by Crystal Spangler
(see all)
If you love Christmas and all of the decorations that come with it, you may be wondering how you can display your ornaments year-round. There are a few different ways that you can do this and still enjoy your decorations all year long. One way is to simply put them away in a box or container until next Christmas.

This is probably the easiest way to store them, but it does require a bit of space. If you don't have a lot of storage space, another option is to keep them out on display all year round. This can be done by hanging them on a wall or shelf, or by using a special stand that is made for displaying Christmas ornaments.
If you're like most people, you probably pack away your Christmas ornaments and other holiday decorations after the holidays are over. But what if you want to enjoy those festive items all year round? Here are a few ideas for how to display Christmas ornaments year-round:

1. Put them in a glass jar or vase. This is a simple way to add some holiday cheer to any room in your home. Just fill a clear container with your favorite ornaments and set it out on a table, shelf, or mantel.

2. Hang them on the wall. This is especially effective if you have pretty, delicate ornaments that would be difficult to display in a more crowded setting. Simply find some attractive ribbon and use push pins or tacks to hang your ornaments on the wall in an artful arrangement.

3. Make a mobile. If you have young children who love playing with things that dangle and move, this is the perfect solution for displaying your Christmas ornaments year-round! All you need is some string, fishing line, or wire; plus, some small hooks (like those used for jewelry) to attach the ornament hangers to the string/fishing line/wire.

Once everything is assembled, just find the perfect spot for hanging your mobile – maybe near a window where the sunlight will catch the glittering of the ornament balls as they spin around!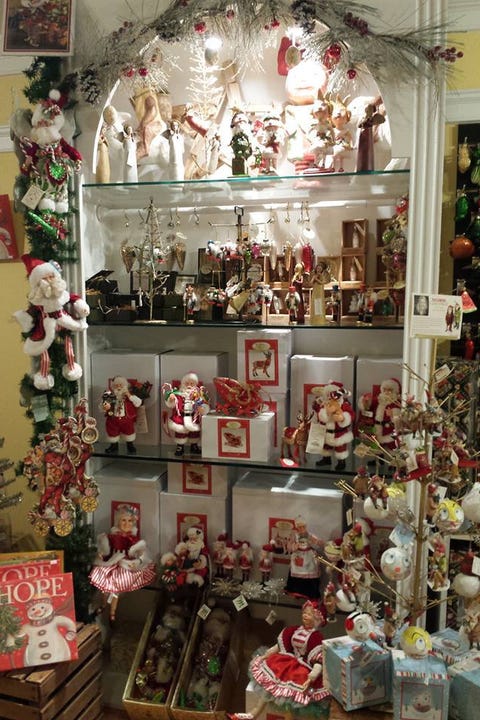 Credit: www.countryliving.com
How Do You Display Christmas Ornaments Year-Round
Most people put their Christmas ornaments away in storage after the holidays are over. But there are those of us who like to keep our treasured decorations out all year long. There are many ways to do this, and it really depends on your personal style.

One way to display Christmas ornaments year-round is to create a shadow box. This can be done by using an old frame and some wire mesh. Simply hot glue the mesh to the back of the frame, and then arrange your ornaments however you like on the front of the frame.

You can hang this on a wall or set it on a shelf. Another way to display Christmas ornaments year-round is by hanging them on a chandelier or other type of light fixture. This looks especially pretty if you have clear glass ornaments.

Just make sure that the bulbs in your fixture are not too hot, as this could melt the ornament's plastic hangers. If you want something a little more low-key, you could always just put your Christmas Ornaments in bowls around your home. This is an easy way to add a touch of holiday cheer to any room without going overboard.

Plus, it's easy to change up which Ornaments you use each year depending on your mood or what's currently trendy.
Is It Okay to Keep Your Christmas Tree Up All Year
Most people take down their Christmas tree after the holidays are over, but some people like to keep their tree up all year round. There are a few things to consider if you're thinking about keeping your Christmas tree up all year. First, is your home big enough to accommodate a large Christmas tree?

If you have a small home, it might start to feel cramped with a Christmas tree taking up space all year long. Second, how much effort do you want to put into caring for your Christmas tree? A realtree will need regular watering and occasional pruning, while an artificial one will just need the occasional dusting.

Third, what kind of message does Keeping Your Tree Up All Year send to your friends and family? Some people might think it's tacky or weird, while others might find it charming and endearing. You'll have to decide what kind of reaction you're going for before making your decision.

Overall, there's no right or wrong answer when it comes to whether or not you should keep your Christmas tree up all year. It's entirely up to you and depends on factors like how much space you have in your home and how willing you are to care for a realtree. Just make sure you weigh all the pros and cons before making your final decision!
What are Some Creative Ways to Display Holiday Decorations
One of the best things about the holidays is getting to decorate your home and show off your holiday spirit! If you're looking for some creative ways to display your holiday decorations, here are a few ideas: 1. Get a festive wreath for your front door.

Wreaths are classic holiday decorations, and they're a great way to welcome guests into your home. You can find wreaths made out of all sorts of materials, from traditional evergreen branches to more unique items like ribbon or even paper flowers. 2. String up some lights.

Lights are another must-have for holiday decorating, and there are lots of fun ways to use them. You can wrap them around trees and shrubs in your yard, line your walkway with them, or even drape them over doorways and windows inside your home. 3. Hang garlands on mantels, banisters, or anywhere else you want to add a touch of holiday cheer.

Garlands can be made out of all sorts of materials, from fresh greenery to shiny metallic tinsel. And if you really want to go all out, you can even add string lights or other decorations to your garland for an extra-festive look. 4. Set up a holiday village scene.

This is a fun way to display collectible houses or figurines that you may have been collecting for years. Or if you don't have any collectibles, you can create your own village scene using paper houses or other simple crafts projects . . . it's totally up to you! 5. Make a centerpiece for your table using candles, greenery, berries, and other festive embellishments .

Centerpieces are a great way to dress up any room in your house for the holidays – not just the dining room table!
Conclusion
It's no secret that Christmas ornaments are a big part of the holiday season. But what if you want to display them year-round? Here are a few ideas:

One option is to use a clear vase or jar. This way, you can change out the decorations inside depending on the season. For example, during Christmas, you could put holly and pinecones inside.

Then, for springtime, you could add in some flowers. Another idea is to create a shadow box display. This is where you would have a frame with glass on top and then put your Ornaments inside.

You can also find frames that already come with hooks so that hanging your ornaments is easy peasy! Lastly, another festive way to display your Ornaments year-round is by using mini trees. These can be artificial or real and make for an adorable decoration in any room.

Plus, if you go with mini artificial trees, then you don't have to worry about watering them!